WINTERIZING YOUR CONSTRUCTION EQUIPMENT:
WHAT YOU NEED TO KNOW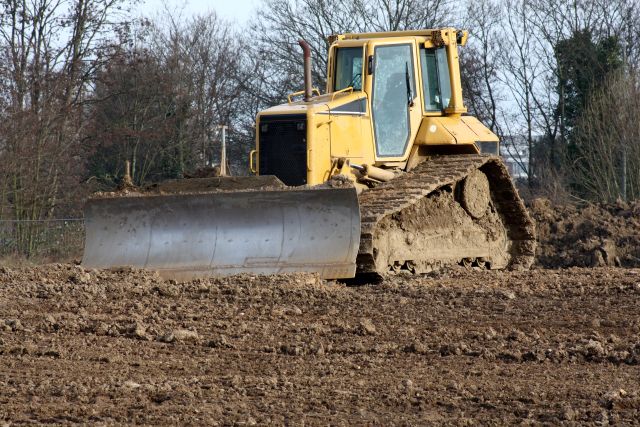 It's very important to prepare your construction equipment for winter. Winterizing is very often pushed off as a non-priority, when winterization should be routine in fall before the winter weather sets in as well as in the spring before the busy season begins. Not only is it important to routinely maintain equipment, it's important to make sure that you are prepping equipment for the winter conditions of your area.
BRING YOUR EQUIPMENT TO A TRUSTED SERVICE PROVIDER
By making an appointment with a local construction equipment service provider, you will be able to enlist the help of a certified technician who can make sure proper fluids are used and at the correct levels. Take advantage of the service technician's equipment inspections to check the machine for other issues that can be serviced on a single visit. Prevention of equipment breakdowns is essential before the winter months because the last thing you want is your favorite piece of equipment to be out of service when it matters most.
WHAT TO EXPECT FROM YOUR LOCAL SERVICE PROVIDER
Fluids & Filters:
Fluids & filters are probably the most important aspect of winterization. Oils & coolants should be rated for the proper temperatures and filters should be checked. Many equipment manufacturers recommend using fluids of lighter viscosity in colder temperatures. Depending on the climate in your area, the lubricants used in the summer months may differ from those used in winter. The chart below is just an example of a typical Caterpillar "Recommended Viscosities" chart. These charts differ in appearance from manufacturer to manufacturer and can be found in the operator's manual for your machine. A professional service provider will have this information and ensure you are getting the proper lubricants for the climate you're in. Using the proper fluids that are rated for freezing temperatures is essential in helping your equipment start-up easy and run at its best in the winter months. Hot dry weather of the summer months can create plenty of dirt and dust in the filters1. Having a trained technician look at conditions, replace filters and change or top off the fluids as needed can make the winter season just a little easier knowing your equipment is running well.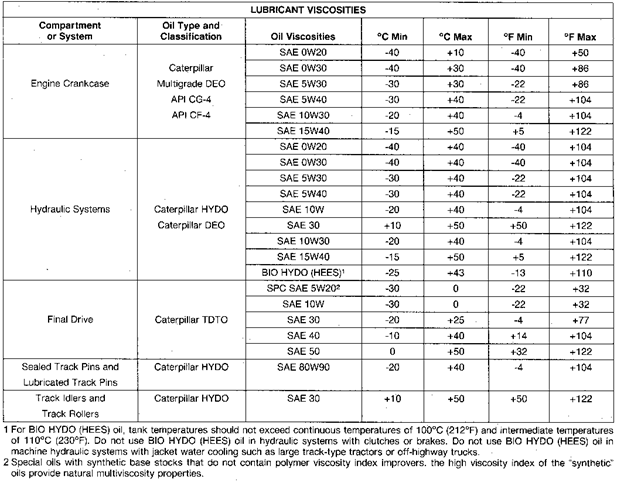 Batteries:
Whether you'll be using your equipment through winter or have it stored away, battery maintenance is important. Keeping a charged, sealed and clean battery will help it last longer. If you're not planning on using your construction equipment this winter, make sure to at least remove the battery and store it inside for the season2. Also, consider using a battery maintainer.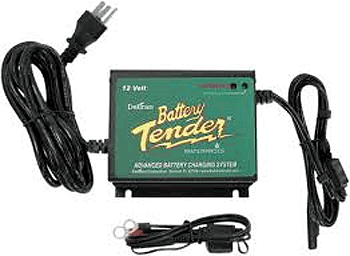 Using one of these devices is ideal when your batteries will be unused for a lengthy amount of time. Unlike chargers, which are designed to charge your batteries completely, maintainers are designed to supply a small trickle of electricity to your batteries over a long period of time. This trickle charge is enough to counteract self-discharge, but not so large that it threatens to overcharge your batteries. By using a maintainer, you'll be able to extend the life of your batteries. When properly maintained, batteries can last for more than five years. Without proper maintenance, however, batteries may fail in less than two years.
Tracked Equipment:
Finally, if you are in a climate with freezing temperatures and plan on storing your tracked equipment outside, it is very important to clean mud and debris from your undercarriage and park the equipment up on tires or planks for the winter. If you are operating your equipment throughout the winter months this should be done on a daily basis. If left parked in contact with the ground or mud and debris are not removed, tracked equipment can "freeze in" and prevent the equipment from moving. If an attempt to free a piece of "frozen in" equipment is made without proper thawing, serious damage can result to drive train components.
SCHEDULE YOUR WINTER MAINTENANCE TODAY
In the Syracuse and surrounding areas, SA Dygert's is the preferred Syracuse area resource for the maintenance and repair of all types of construction and AG equipment. We provide trained technicians for all makes and models of equipment along with a full line of maintenance and repair parts Make SA Dygert's your go-to service provider by emailing info@sadygerts.com or calling 315-559-4992.
Sources:
https://www.equipmentworld.com/before-the-snow-flies-heres-how-to-properly-winterize-your-heavy-equipment-fleet/
https://www.thebalance.com/construction-equipment-winter-care-maintenance-tips-844967